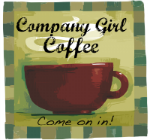 Welcome! Pull up a chair and grab a cup of your favorite beverage.
What a week! I love my political talk radio. Mark Davis, Rush Limbaugh, Sean Hannity, Mark Levin and Laura Ingraham accompany me throughout my day. Mark is a local guy (who sometimes fills in for Rush) and is even-keeled. I love Rush's optimism and his sense of humor. Sean reminds me of what is good and true in this country. Mark fires me up. I love that man's passion! But the politics this week have worn me out and I was getting weary. So I turned them off for a few days and turned on the praise music. Just what my heart and soul needed.
I love that God put the Isaiah and Revelation precepts in my path at this time. There is nothing like studying God's word to put things into perspective. I wish I weren't so new to Bible study, but I am very glad that I'm there now.
This was the first week back to school after spring break for my older son. He's 8 and in 3rd grade and ADD. Getting him up and ready in the morning is like herding jello. He was tardy yesterday - completely his fault. So we are making him more responsible for his morning routine. I put together a simple chart and printed it out. So far, this morning went well. He set his alarm and was actually awake when Andy went to get him up. I want very much to find the right routines for him, routines that make sense to him and will become ingrained so that they are second nature. I want him to succeed. And I'm learning, as a parent, that his success depends upon his failures and how he deals with them. So my prayer is that God will let me know when to step in and when to step back and how to help and teach my son to handle his failures.
I work at the zoo this weekend. We have a grand new exhibit open called MOLA - Museum of Living Arts. It's a wonderful herpetarium and a great addition to the zoo.
Since my younger son starts kindergarten in the fall, I have applied to be a substitute in our school district. I was a math teacher in my life before kids. While I don't want to go back to teaching full time right now, I think subbing is right up my alley. I'm excited!
Easter is just a little over a week away and I'm excited! It's my favorite holiday! It's my favorite Holy Day.