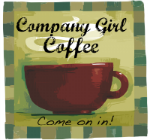 Come in and grab a cup of your favorite! For me, it's a Dr Pepper this morning.
I sold my car yesterday. I had a 94 Ford Explorer. I bought it used in 1999 with 70,000 miles. When it left me, it had 217,480 miles. They paid me $250. It had many problems including an electrical problem that cropped up Wednesday night on the way home from church.
God is good! My grandmother recently moved in with my uncle and is giving me her car. It is in the repair shop as I write this, waiting on a part. So I'll be without a car for a week. And I think that's a good thing.
When talking to my friend last night, I told her about selling my car. She offered me the use of an extra car she has right now. I was wondering how I was going to get to Bible study on Wednesday since my husband works. Now I have a way.
This deal is a great reminder to me of God's timing and God's provision. It's not always what I expect or what I want, but it is always what I need and is always a great reminder of His love and care for me, even in the small things. Because, really, a car is a small thing in the grand scheme of life.
God speaks to me through my blog. Often, I sit down to write a post and it turns out as a lesson for me. I don't plan them to be deep or meaningful, but that's where God leads. And in that, I am humbled.
Well, I have an entire house to clean (okay, it's a small house and I'm not worried about certain rooms). I am having a
Scentsy
party tonight and the house is a disaster. And rather than work on it yesterday, I drove into Ft Worth to sell my car and then came home and we worked on a plumbing project (which we CONQUERED, by the way!). So, before 5 pm tonight, I need to finish my kitchen, dining room, living room and bathroom. The boys' bedroom and playroom just need to be straightened some. I'm not meticulously organizing a room in which several children will descend and
destroy
enjoy tonight. My room and the office won't be seen, so they have to wait. And I need to mix up a batch of
vanilla chai tea mix
to have on hand tonight.
One more thought, after today, my room will have priority in cleaning. It is sanctuary for my husband and me. I want him to have a relaxing place to chill. Eventually, I want to repaint. Right now, the walls are a deep red (think Aggie red - and I'm a Longhorn fan). I'd like to paint three walls brown and one wall sage green. I'm also going to paint some furniture a coordinating color (a large dresser and nightstand as well as the headboard). Or maybe I'll invest in a staple gun and recover some stuff. I'm feeling crafty after seeing some simple projects on blogs (check out the crafty blogs and house and home blogs on my blogroll).
Okay, I'm off on my crazy day and tomorrow I work (I do overnight parties at the FW Zoo).
Have a great and wonderful and blessed weekend!