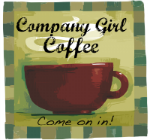 Welcome Company Girls! Ready for another Friday Coffee? I am! I won't have much time today to read blogs, but I look forward to it in a couple of days!
Some things I am ready for; some not so much.
I am READY for my yard to be rid of weeds! So, I applied an herbicide yesterday. Hopefully that will save my hands a lot of pulling. Then, in a few weeks, I'll put out new grass seed and see what happens.
I am READY for my youngest to go to kindergarten. Well, in some ways I'm ready. I'm excited for him. His big brother (4 years older) told him that if he got scared, he could come find him. I had to explain why that wouldn't work. In some ways, I'm not ready. Or I should say, I'm not sure if he is ready. We'll work on some things this summer. And we'll see.
I am READY for the Ladies' Retreat tonight! Our women's ministry is doing an overnight retreat about an hour away and it was very inexpensive. I can't wait to see what God has in store for all of us!
I am READY to bring in money by being a substitute teacher.
I am NOT READY for my sister-in-law's mom and nephew to visit. My sister-in-law is from India, so they are travelling from India probably some time in June. At least I have about 6 weeks to whip this house into shape. It's a total disaster area and that is not an exaggeration. Baby steps, right? But I want to be
rapture ready
. If you have a moment, click on the link and share your opinion.
Well, I need to go pack for the retreat. I'll stop by the Company Girl blogs in a couple of days. Adios!