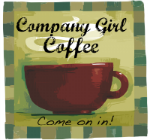 Welcome Company Girls!
What a week! I worked a double shift last weekend. I do overnight parties at the zoo. I arrive at about 5 pm and leave about 11 am the next day. I do get to sleep, usually about 6 hours of bad sleep. I did that Friday night and Saturday night. And I'm doing it again this weekend. The money will be nice!
I've been following the flood in Tennessee, the NYC attempted bombing and the oil spill, as well as the meltdown in Greece. Oh, and did you know that
Iran now has a seat on the UN Commission on the Status of Women
? Isn't that special.
On the homefront, we have 3 more weeks of school. Tuesday is my older son's field trip. I'm going to be a chaperone. Guess where we're going...the zoo LOL. And yesterday, all of the district's third graders went to the high school for a presentation by....the zoo LOL. He has a diorama due on the 19th. It's on the rainforest and must include all 4 layers with at least one animal in each layer. I think it's cool.
I am looking forward to summer. To kick things off, my middle brother and his family are coming for a visit from the 4th through the 10th of June. His wife is from India and her mom and nephew from India will also be with them. And of course, they'll have their two precious children. This aunt can't wait to see them! Since my older one's birthday falls that week, we are going to...the zoo LOL. I have free tickets and they'd all like to go and my boys are excited, so we'll go! Then that evening, I've invited family over for dinner and cake. Just an easy dinner of tacos - everything can be prepped in advance. I need to come up with some meals that can be either vegetarian or not. Sister-in-law's mom doesn't eat any meat. SIL and her nephew will eat chicken and turkey. I have plenty of ground turkey. I've got tacos that one night and I can do pasta with meatballs on the side on another night. I want to give them a taste of Texas and stay within their dietary restrictions.
Mother's Day is Sunday. I've just asked my husband to help the boys do some picking up while I'm working this weekend and I would be very happy with that as my gift :D I'm not a flowers and jewelry kind of girl. I'm happiest with a kiss and a hug (and maybe a meal at a restaurant). Do you have plans for Mother's Day? I've heard of some moms planting a special plant. Some get breakfast in bed. Some love chocolate. And there's nothing wrong with the bling if that's your thing.
I wish all of you a special Mother's Day! Whether you are a mother of your own child or a mentor, you are special!