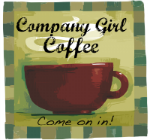 Welcome Company Girls and whoever else may wander this way! All are welcome! I have hot vanilla chai tea from a lovely recipe I found
here
. Or if you prefer, I can make some fresh coffee. Have a seat and relax for a few.
I have so much to do around here. Please forgive the mess. In all honesty, it has been laziness on my part. If I can't do it all perfectly, then none of it tends to get done. That's not very useful is it? I am learning to focus on the small things (thank you Rachel Anne). All of those small things add up to big things ... and a cleaner house that provides sanctuary for my family.
Today's goal is to clean the living and dining rooms. Neither room is very big and I started this yesterday. So it's a doable project. I'm going to use my timer and do 15 minutes at a time. Who knows? Maybe I'll finish the kitchen as well. Oh, and I am going to make time to work on my Bible studies. I bit off a little more than I can chew, but I'm sticking with it. An Isaiah precept and a Revelation precept isn't too much, is it? I know that I'm not likely giving either the appropriate attention they deserve, but I am learning a lot! And I love Kay Arthur's approach!
So, I've set some lofty goals for today. I'm going to do my best to achieve them, 15 minutes at a time. And in my breaks, I look forward to having coffee with the other Company Girls. I pray that each of you has a truly blessed weekend!