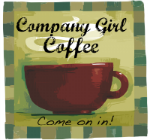 I'm on a journey. Well, we all are, aren't we?
My journey involves my faith. I received a
devotion yesterday from Proverbs 31 Ministries
that really put my journey into focus. She wrote about exactly with what I struggle. She wrote how believing is much more than just acknowledging His death and resurrection. That's where I have been stuck.
I "became a Christian" at Easter time when I was 6 years old (30 years ago). I remember the day and making the decision. But so many times, I wander far away from my Father. I've been faithfully attending a church for over 3 years now. It's opening my eyes to just how far from Him I am. So far, in fact, that I rarely pray. How can I possibly have a relationship when I don't speak to the other person for ages at a time? Yesterday, I asked God to please keep me around long enough until my heart is right with Him. I meant it when I walked that aisle 30 years ago, but I didn't understand the depth of faith. I feel His tug on me. He speaks to me and His truths whisper to me at the times I most desperately need them. Sometimes they shout at me. I can feel His guiding hand when I allow it. So I know that I'm on the right road. But I don't want to just be on the right road. I want to be running toward my Father with abandon. He has a lot of work to do on me, and, frankly, my flesh is scared of where that will take me. I know wherever it is, He will be with me the entire way.
Am I alone in this journey?