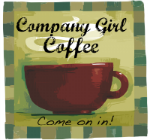 It's Friday already? Wow, this week has flown! Pull up a chair and grab a mug! I have tea and, well, tea. I've given up Dr Pepper. Sweet tea has temporarily taken its place.
I love Easter weekend! I came to know Christ on Easter weekend when I was 6.
We are going to Good Friday services tonight. One thing our church does tonight is to have everyone hammer the nails into the cross. It's very sobering. Good Friday is a difficult day, but thank God for Sunday! Praise God that Good Friday wasn't the end! He is risen! And that makes my heart sing!
This
was a timely post for me. So many times, I tell myself that I'm not good enough. That I've done too much wrong in an area to be able to help others in that same area. What a lie that is! Thank you Lord for putting that post in my path!
Well, today is a half-day at school. Originally, it was a vacation day, but we have to make up a snow day, so the oldest is at school.
My house is such a wreck! I have so many little things to do that I feel paralyzed by it all. The silly thing is, none of it probably takes very long...if I just move into action! So, my goal for today is to get a little done on my office. And to put together all the outfits for Sunday. And work on my Bible studies. I think I'll start with the studies.
Have a great weekend!